Create Your Own Digitally Printed Ceramic Products
You can create your own custom designed ceramic products with our patented ceramic digital printers and toners. You can produce beautiful pieces with unsurpassed quality of up to 1200 x 1200 dpi resolution and products that will last for generations without worry about chipping, peeling, or fading.
Creative DIY Glass & Ceramic Designs

Many of our customers create stunning custom artwork using our ceramic digital printing systems to create pieces such as:
Food-safe, custom tableware, plates, mugs, etc
Bath and plumbing fixtures
Photographic-quality swimming pool murals
Durable ceramic tile murals
Customized porcelain enameled appliance skins
Graphic porcelain dental crowns and veneers
Kiln-fired family pictures
Porcelain photos for cemetery markers
Bar coding
Rapid prototyping
The Possibilities Are Endless
Here are some beautiful pieces of work created by owners of our ceramic and glass printing systems. As you can see by the variety of media and pieces, the possibilities are endless for what you can create using this printing system.
1. Fire Bowl: Mariko Paterson / Forage Studios
2. Sea Mural
3. Beer Growler: Carlburg Pottery
4. Goose Plate: Richard Zane Smith
---
Get Better, Cleaner & Greener

Our ceramic digital printing systems and toners are some of the most environmentally friendly in the industry due to formulation composition, production process, and disposal. With our patented and unique toners, you no longer have to worry about solvents or other liquid waste generated by other ceramic systems.
In addition, the entire creation process is a lot easier since you don't need screens, films or mass production processes to create your own unique and individual works of art. You get higher image resolution and lower production cost in less time and near zero environmental impact. Enjoy the freedom to create your own high quality ceramic and glass products using nearly any artwork!
Create Beautiful Artwork that Lasts
Create your own true ceramic images and kiln-fire them up to 2300 degrees F for the ultimate in durability, UV stability, scratch resistant, abrasion resistant, and beautiful porcelain and ceramic products.
Turn Your Passion Into Profit
We offer several production systems that offer a range of prices and features to meet your needs and budget. Plus, we can configure the perfect system based on your creative production process and output goals. The material cost to produce finished ceramic decals is only about 6 cents per square inch! We include all training, necessary materials, and equipment to help you create beautiful pieces of art to last a lifetime. We even offer financing to help get you going.
---
CASE STUDIES
Tim Carlburg / Carlburg Pottery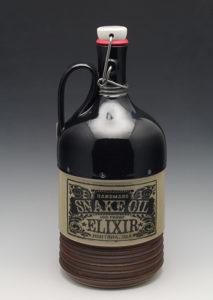 Tim Carlburg of Carlburg Pottery got a BS in Art Education from UW-Madison, served as an M1 Abrams tank commander on active duty with the military and took a continuing Ed. class on ceramics to keep his teaching license current. He moved to Montana and worked for three years as an outdoor educator and guide with at-risk youth.  Then he took a job at a local pottery before deciding to open his own studio about 8 years ago and combine two of his passions, ceramics and beer and began creating hand thrown custom beer growlers.  His art garnered rave reviews but as each piece was meticulously hand made and hand "painted" or stenciled with underglazes, the amount of time to make a single growler often went beyond a full days work.  This arduous and time consuming method of production limited his business potential, his financial return, and his ability to meet the demands of his customers.
Tim did an internet search trying to find a solution to his production bottle neck.   Eventually he found Enduring Images and another competitor and decided to visit both at an NCECA conference. Having seen the equipment and processes first hand, Tim finally decided that a digital ceramic print system was exactly what he needed to take his business to the next level – and ultimately chose the Enduring Images system because of it's ease of use (and required no spray on / roll on cover coat applications), and its multiple color toner set options. Once the system was purchased, like most customers,  Tim flew to Colorado and spent a day with the Enduring Images staff training on the equipment and meeting their team.  Now almost 6 years later, Tim still has the ability to create and offer his clients one-of-a-kind logo work, in any quantity that reproduce the same each and every time. Tim found that his production increased exponentially, and he had the ability to offer his customers a better quality product in at a fraction of the time and cost.
Tim says he recommends the EI Ceramic Print System on a regular basis and incorporates a decal application portion into the workshops he teaches.  Because there are no foul smelling aerosols involved, Tim has a small space dedicated to the printer in his home office and creates the unique logos and artwork required for his growlers right from his desk at home. Tim happily reports that over the years he has never had an equipment issue (other than literally burning out his first laminator due to the amount of work he was putting through it), but never a problem with his printer, the decals or the toner.  Any time he has ever had a question he knew that EI was just a phone call away.
---
Dana Fleming
Dana Fleming and her husband were raising three young kids on Nathan's teacher's salary in anticipation of Dana reentering the work force when the kids were in school.  Unfortunately Dana was struck by an autoimmune-induced neuromuscular illness that made her world smaller and left her unable to pursue a job outside the home.
After searching different at-home business plans, Dana combined her interest in ceramics with her past experience in photo editing by creating porcelain memorial products.  After independent research on her own, she found Enduring Images online and started a conversation with Ron about her business plans. Afterwards, Dana felt positive that this was the right way to contribute to her family while living within the confines of her illness.
Getting started in the memorial porcelain business could have been overwhelming but Dana was provided with thorough training by Enduring Images.  She felt confident moving forward with the open lines of communication by phone and email support she received from Ron and the rest of the crew at Enduring Images.
The choice that Dana made to start a business with a porcelain printing system from Enduring Images was life-changing.  As her health steadily improved over the years, her clientele grew and she was able to maintain a quality product and healthy profit while only working 10-20 hours per week.  This flexibility allowed Dana to eventually care for Nathan's grandmother in her final years.
The decision to sell her business was one of the hardest Dana ever had to make, but she felt that with her improved health and extra time after the passing of her grandmother-in-law, she was ready to go back out into the world.  The business that she built with the help of Enduring Images sold for a profit that allowed her to go back to school to pursue a degree in School Counseling.  Ron and the crew provided support and instruction to Dana and the new owners of the business both before and after the sale, helping to make the transition easier on both parties.  Because of the life-changing decision Dana made to trust the quality and support of Enduring Images, Dana was allowed time to heal, time to care for a loved one and the resources to follow another dream.
Interested in starting your own business?
Give us a call and we can discuss options for helping you get started!  1-800-905-3295 Monday – Friday
Or… fill out the Printer System request form above and we will get back to you!
---
Learn more…
About our patented technology
Brief History of Ceramic Imaging