Create Beautiful Custom Dinnerware
Enduring Images creates personalized dinnerware using your custom artwork, photo or logo for a truly personal and unique look. We print using advanced digital ceramic printing technology and kiln fire the decoration to around 1600 Fahrenheit. The result – very economical pricing, the highest resolution possible and commercial durability.
When you send us your project; we do not send it to China! We are a woman owned business and we manufacture here in the USA: all of our plates are hand decorated in Golden Colorado! To learn more about our custom dinnerware offering, CLICK HERE.
NO SETUP FEES
As we do not charge a set-up fee, our pricing is affordable. Utilizing the latest in digital ceramic printing, our quality is beautiful.
NO MINIMUMS
You may order any quantity you desire, including just one!
DISHWASHER SAFE
Our tableware is dishwasher safe and is tested to meet food service safety standards by an FDA certified testing agency.
CUSTOM DESIGNS
If you would like help in designing your own unique pattern, we have a graphic design team to assist you. Your design or ours, beauty simplified.
PRICING
Our pricing varies depending on the size, shape and brand of the tableware you choose as well as the complexity/size of the artwork. For our basic customization price list, CLICK HERE
---
Custom Plate Designs with Text, Logos & Images
Here are some custom printed plates that we have created for other customers in the past.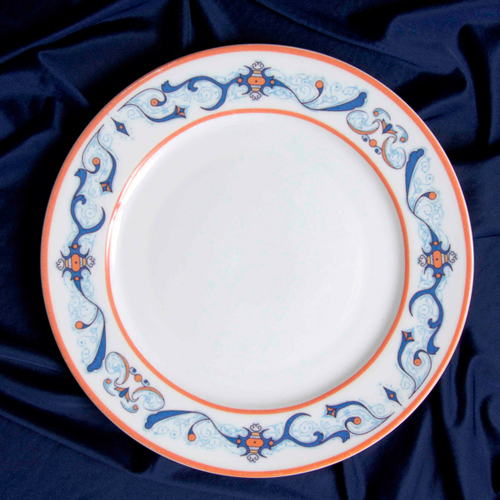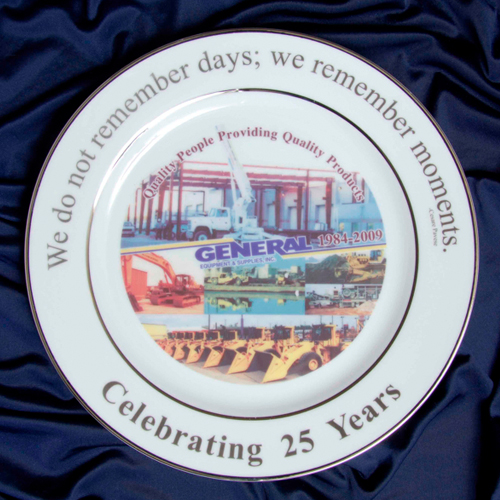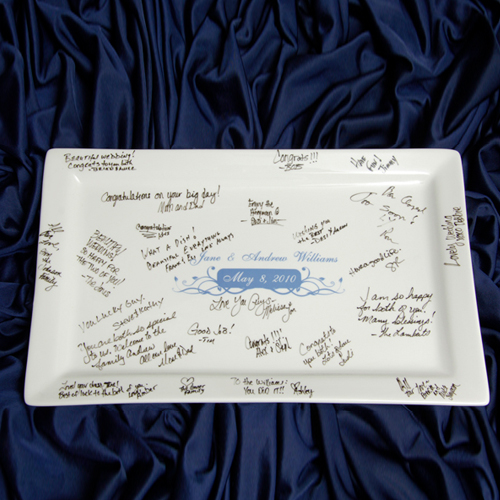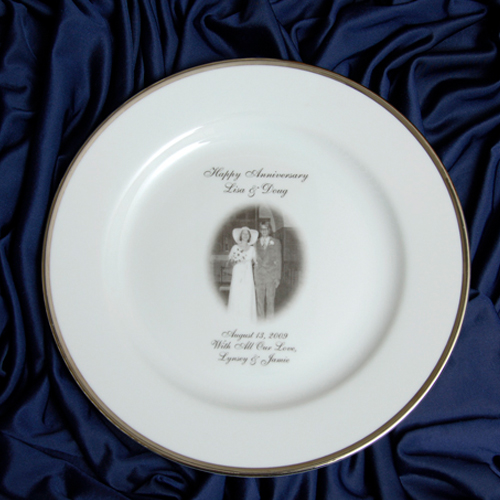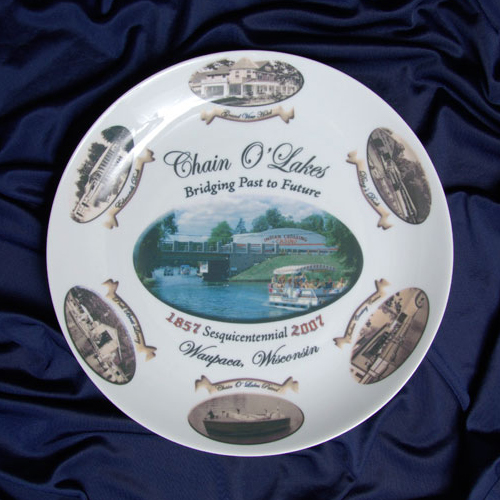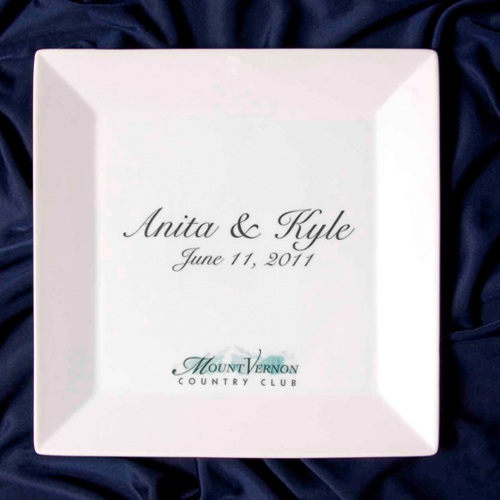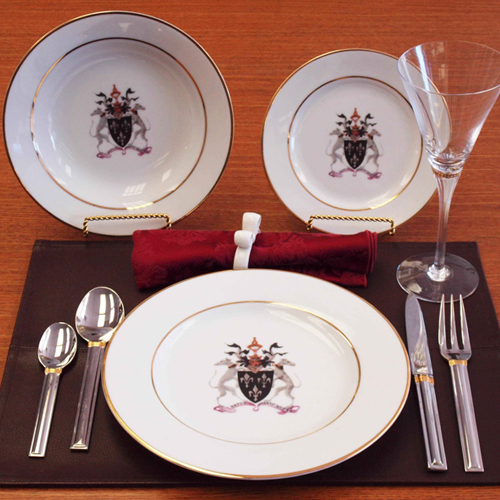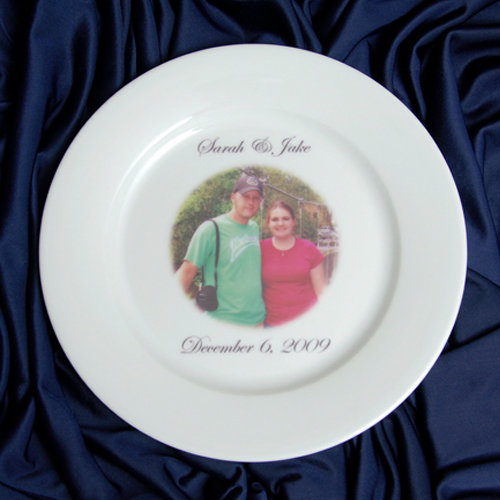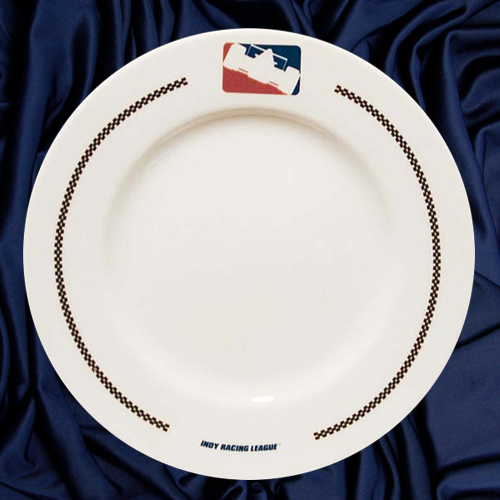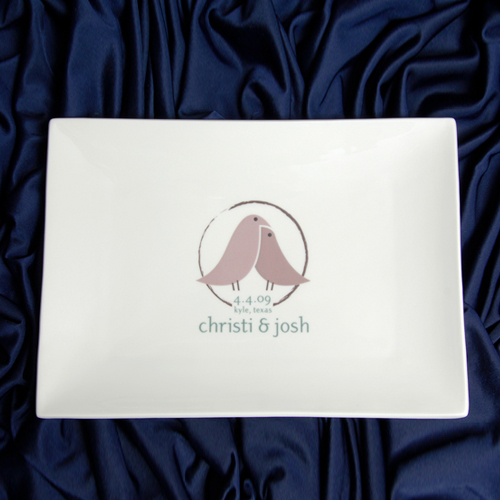 ---
Common Questions About Ceramic Printing
Colors
Enduring Images cannot print metallic or fluorescent colors.  We can simulate metallic colors but the simulation does not "reflect" like true metal.  We can, however, customize some plates that are pre-decorated with metallic designs such as gold or silver bands.

We recommend avoiding deep red in the artwork/logo on the plate if you are interested in the plates for food use.  Red ceramic pigments are no longer considered food safe by some states, California specifically.

We do not guarantee color match.  We do guarantee beautiful decorations that are a very close representation of your art.  As with all printing systems, perfection is unattainable.  For us to get as close as possible on "color", you will be asked to mail us a print/copy of your art in addition to e-mailing a high resolution version.  This will help to avoid computer screen differences.

Artwork
Your artwork should be sent at a minimum 300dpi to scale or greater.   Jpg, tif, pdf and psd formats are all fine.  File transfer services can also be used for large files.  We ask that you send your artwork sized to the approximate dimensions of the plate you choose.

If you are interested in your own artwork/replica of a painting or drawing on your dinnerware, in addition to the color discussion (above), please note that during the firing process in the kiln, some brush strokes/color variations may or may not remain visible.  While there may be some compromises in the perfection of the reproduction, the result will be more long lasting than any other substrate that you can put your artwork on.  In the end, there is no perfect system to duplicate all aspects of artwork.

If you would like put your photos on plates; please keep in mind the shape/sizing of the photos will need to fit with the geometry of plate that you choose. Sending us pre-cropped photos keeps your costs down.

If the artwork is not yours, we will require a signed copyright release simply stating that you have the rights to duplicate the art.

If changes to the artwork or sizing of graphics is necessary OR if you need assistance in creating a design, our graphic team can help! Our hourly charge for this work is $35/ half hour with a half hour minimum. .

Once you have placed your order, upon request, we will e-mail a digital proof free of charge. This is for art placement only.
You may also be interested in a sample plate mailed prior to production of your order. If this is the case, the sample price will be determined by the plate size and decoration involved.

Other Information
Turn-around time depends on your order quantity. Typical orders should ship within 3-4 weeks from final approval. If you have a specific due date that requires quicker shipment, we may be able to accommodate a RUSH order but there will be an additional fee for this.

A 50% deposit is due at time of order and the other 50% plus shipping and handling is due the day we ship. We accept Visa/MC as well as checks. Please ask about our web check service. It is more secure than any other method of payment.

Save
Save
Save
Save